Home
About us
Where we are
Our climate
Our land
Our plans
Our friends
Development

Contact us
Resources
Site Map
Cultivation
The cultivation process involves a number of steps interspersed with ripping and installation of irrigation pipes:
First ploughing
Second ploughing
Ripping for shelter and cropping trees
Install irrigation
Third ploughing
Fourth ploughing, sow fescue seed, roll out
This page shows the progress of the cultivation phase so far......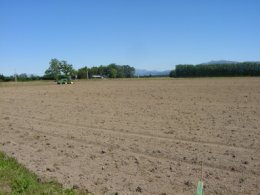 ...both good and bad. A shelter belt removed before we purchased the land resurfaces after cultivation and will require removal by hand! Another job for us to follow on from the stock race. This is where a farmbike or ute starts to look seriously attractive.....
The other shelter belt, which cuts through the middle of the property, was partially removed in order to allow the western most series of blocks to be cultivated. Should make for a merry bonfire come winter...
The start of the driveway - marking it out with bamboo stakes. About 300 metres all in all, a fair hike from the door for the morning paper! The driveway will go through the front native/tree area and two hazelnut blocks, so we are hoping it will be a pretty enough drive.
... 28 February. It looks a little better now - although not without incident. We went out on 24/2 to catch up with recent progress and the well drilling. We drove up the driveway to the well site - and encountered a lot of well concealed ruts and snags which nearly ripped the bottom out of the car. We need that ute! We decided to avoid this as we left by driving down the side of it, over the cultivated part, and got all the way to the front before realising that there was a metre deep trench we would have to negotiate in order to get out. Back to plan one.... But by the weekend the driveway was looking a lot better and was comfortably driveable.
21 March. Nice and level for the start of winter. Wonder what the rain will do to it.