Home
About us
Where we are
Our climate
Our land
Our plans
Our friends
Development

Contact us
Resources
Site Map
Development - Work begins in earnest

July - December 2004
On 12 July 2004 we started the first stage of planting, and this continued in spurts until September when the final shelter belt trees went in. With the first 3500 trees now in place (1000 hazels and 2500 shelter, give or take) the land has started to look very much like a budding orchard. It has made a bit of a difference - before and after. The planting was possible only with the help of a number of friends - sleeving the trees was a time consuming job.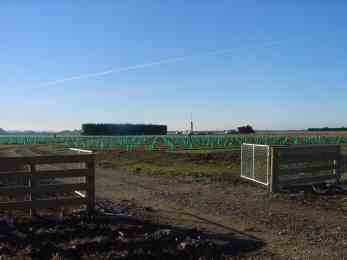 The next step forward was erection of a pump shed. In many ways this was a milestone, as it required the well to be completed and also the power to be connected. We are now a fully accounted power user with one single light bulb in the shed to our name. Despite the dinky size, we are an industrial user with three-phase power to the pump. All this energy is required to trickle water onto the first irrigation block (two of our tree blocks) and the shelter belt.
Not that we'd spend time sitting in the shed watching the view, but it does have a certain something......
While all the serious work of establishing crops was going on, we also had a personal project to do - putting some native trees and shrubs in the front area. We started with about 100 tussock and about 30 assorted others including flaxes, hebes, toetoe and others for the area in front of the fence, and 150 native and exotic trees. Of course we seriously underestimated despite a lot of planning...another 100 needed!
Fun and games putting down the weedmat, the wind plays havoc with it despite the metal pins holding it down.