Home
About us
Where we are
Our climate
Our land
Our plans
Our friends
Development

Contact us
Resources
Site Map
Development - Round 2 Begins

June - December 2005
5 June - the view before we start this year's work. The grass has browned off alarmingly in the two planted blocks, the work of a grass grub called porina.
Planting this year was earlier than last year, taking place on 22-23 June. This brought our area under cultivation up to around 10 acres, with about 2800 hazels. We are no longer a budding orchard, but a definite commercial entity (well, pre-commercial I suppose as it is all still preparatory work before cropping begins). The extra trees have made another big difference in the landscape, and fortunately we were again able to call on a number of friends to help make it possible.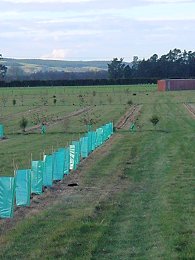 7 August and we have a small diversion - friends are preparing a small vineyard on the back boundary. In the 10 metres between the back shelterbelt and the irrigation race, James and Carla will plant 200 vines of riesling. In a few years, we hope to enjoy the fruits of their labours. The first stage was to rip the planting lines...
11 September - Spring has sprung and we spent the weekend preparing for the new season. You can just see that the grass inthe far blocks has been cut, and how lush it is in the foreground (house block). We spent the two days mowing, pruning and sorting out irrigation. Another month of similar work to follow.
2 October - we are putting in the irrigation microsprinklers, one between every two trees, and it turns out that our hazel rows are quite a sought-after locale. We have found several nests of plover eggs amongst the rows, with 2-4 eggs in each. The parents aren't much in evidence, so I hope the rats and possums don't get too adventurous.
24 October - Labour Weekend, and the name is apt. We have been labouring away for the last month installing irrigation, and we are now ready to face the new growing season.
24 December - The grass has leapt into lush growth and once again we are on the back foot for maintenance.