Home
About us
Where we are
Our climate
Our land
Our plans
Our friends
Development

Contact us
Resources
Site Map
Development - starting again

July - December 2007
July - We have decided not to prune this year as the trees we have pruned in the previous years have not necessarily taken off well from the selected leader - this may have died back, or been overtaken by other stems. We are working extra hard this year to improve the general health of the trees so that they develop more strongly.
July - Planting happened without us again this year, as Stephen and his crew set to work in mid July. This year we have used netting sleeves, which will allow greater air circulation (hopefully reducing the incidence of diseases such as bacterial blight). We will have to use a dessicant to spray off leaves low down on the trunks to allow us to safely spray herbicide around the trees, so this year we have planted a larger grade. The netting sleeves were much faster to put on than the full plastic guards, so we managed both planted blocks in one relatively light day, with quite a small crew.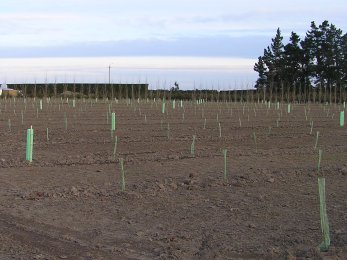 November - The grass on the eastern side has established and the blocks are starting to look like orchard, rather than mud.