Home
About us
Where we are
Our climate
Our land
Our plans
Our friends
Development

Contact us
Resources
Site Map
Visitors to Autumn River
Visitors are always welcome to call in and see us at Autumn River, and in due course to come and stay (or if earlier, bring a tent). There have been a number of visitors so far......
20 November 2005 - A bit of a do.
We were married on 20 November, and the farm was the obvious location for this important celebration of our future together.
Getting by with a little help from our friends.
April 2005 - even the 18 acres we have under cultivation is a lot of mowing. Fortunately, Qi and Yi were willing to help...
4 January 2005. It's been a wet summer, but finally enough sunshine for a good barbeque. Didn't quite make up for not being able to spend New Year's Eve there, which we had planned, but a lot of fun all the same.
Just before Christmas, Sarah's cousin Shara came over from Melbourne with her new husband Anthony. For some reason they hadn't expected a NZ summer to involve rain and hail, and had to borrow jerseys and coats to keep warm.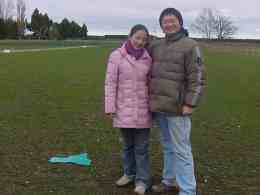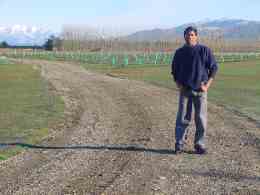 The
planting spree of July 2004
saw lots of people come out and help, including three students from the COSC program at Canterbury University. Qi and Yi (from Wuhan in China) had just completed one of Malcolm's papers as part of their Honours course, and Mayank (from India, and older brother to Astha - see below) is researching his Master's thesis.
In late June, Malcolm's daughter Katie came visiting with her boyfriend Brian. They were both quite comfortable in the rural setting - Katie is studying vet science and Brian is a stock manager on a large livestock farm in the North Island. Katie did our first plantings, two cabbage trees (cordyline australis) at the front gate. The makeshift sleeves to keep the hares off seem to have worked so far, and both plants have survived the first couple of months...
People seldom expect 35 acres to be thrust upon them at short notice, but they mostly take it with equanimity. Sarah's school friend Juliet agreed to come for a ride out into the country and found herself squashed into the front seat of the ute and staring down the barrel of the 20km straight that is Tram Rd. She seemed to enjoy the experience, however, and certainly enjoyed the land once we arrived.
In late February 2004 - right in the thick of the initial development - Malcolm absconded and left Sarah to manage the farm. She decided to try the bounds of family and friendship, and roped in her mother Kim-Hoàng, and friend Nadine to assist in marking out ripping lines for all the hazelnut blocks.
Would you entrust your precious development to these green land girls? Well, for some reason Malcolm did... And we didn't even try to make off with the tractor!
In February 2004, a colleague from the UK came to Christchurch and ended up in Oxford visiting the land. Crispin was a little taken aback when he saw that 35 acres actually looks quite large when you don't have people and buildings all over it...
Mike Randall visited Christchurch in January 2004 to help Malcolm with some technical developments, and took a trip out to Autumn River. Mike was thinking of moving back to New Zealand from Melbourne, and taking on a bit of land seemed like a possibility. So once he sells his highway inn at Euroa, we may have a new neighbour...

Malcolm's sister Susan visited Autumn River in January 2004 with her friends Marta and Eric from Staffordshire, UK. They found it all quite strange having someone they had all associated with computers suddenly talking about shelter belts, irrigation, tree crops...