Home
About us
Where we are
Our climate
Our land
Our plans
Our friends
Development

Contact us
Resources
Site Map
Planting, Phase 2 — 22-23 June 2005
This year, planting arrived early. At the start of June Stephen confirmed our dates as 16-17 June, but then rang to say that some of the vital supplies (green plastic sleeves) hadn't arrived yet. Did we want to go ahead anyway? With our marauding bunnies? No thanks. So it got put back a week and we went to the Hazelnut Growers' Association AGM in Blenheim instead.
We were lucky with the weather. Despite the predicted rain, we had two gloriously calm days, one sunny and one overcast but at least dry. Once again we were assisted by Stephen's planting machine and a crew of staunch friends, willing to give their time for a day of hard yakka.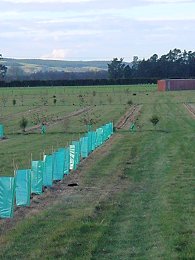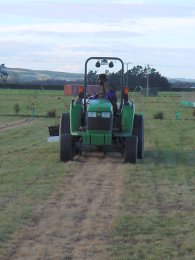 Even bigger machinery!!
The tractor this year was bigger than last year's dinky blue toy, and the whole set-up quite appealed to people with a mechanical bent.