Home
About us
Where we are
Our climate
Our land
Our plans
Our friends
Development

Contact us
Resources
Site Map
Planting, Phase 1— 12-13 July 2004
At the start of July, we finally got the call - the first lot of trees ready to go, and planting scheduled for the middle of the month. We rounded up as many friends as we could lay hands on, and trundled out one crisp Monday morning to start. The planting itself was done by three men and a tractor, which opened up the ground and then firmed it around the trees after they were dropped in. A crew of 9 willing helpers came along to add the finishing touches - a protective sleeve on each tree (to keep the hares at bay) and three stakes for each hazelnut, which the sleeve was stretched around.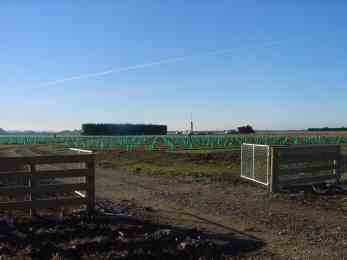 Image 1: just started.
Image 2: One happy hazelnut (with many siblings in the background).
Image 3: at the end of the day - almost all done.
The crew: there were actually 9 of us at the start (plus the dogs), but Malcolm and one of the students (Qinglan) had to go back to town for a university lecture in the middle of the day, leaving just the loyal hard workers- Yi, Qi, Sarah (with Holly), Quang, Thu Ha, Nadine and James (holding Basil).
Holly and Basil came along with James for a day in the country and made lots of new friends with all the other dogs brought by the planters, tractor man and the well driller.
At 6pm, after it was too dark to do anything more, Malcolm finally let us pack up and head for Oxford and a well deserved meal.
Drinks by the jug, including the orange juice.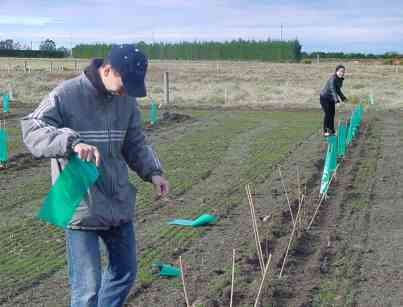 Left: Thu Ha and her brother Quang, who came over for a month to look at NZ and decide whether he wanted to study here, and who ended up roped into two days of hard labour in the freezing cold.
Right: Qinglan, one of Malcolm's students. None of them expected when they signed up for his course that they would be asked to do practical experience in an unrelated field, without even a hope of extra credit for it!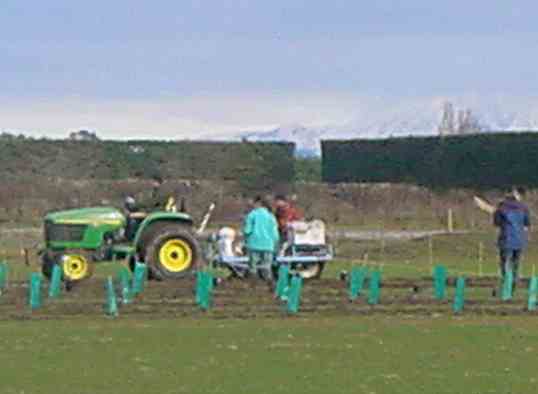 Ooooh, big machinery!!
The little blue cart behind the tractor seated two men and about 200 trees at a time. The tractor inched slowly ahead and a claw under the cart ripped open a narrow trench. Drop in a fertiliser tablet and a tree, then the tyres at the back, which were canted in at an angle, pressed the earth back around the newly planted stem.